ExpressVPN is one of the biggest VPNs on the market today. While you will see it being recommended by many big "review" websites, how well does it actually perform in real-world tests? This ExpressVPN review will give you the answer and reveal the pros and cons of this VPN.
First, we should point out that much has changed in the past year with ExpressVPN. They released a self-developed protocol called Lightway, which promises faster speeds and upgraded security. ExpressVPN has also undergone some big security and infrastructure upgrades. However, we also see it falling behind in some areas, particularly when compared to other leading VPN services.
In this new and updated ExpressVPN review for 2021, we took a deep dive to examine and test every aspect of this VPN:
How fast is ExpressVPN with the new Lightway protocol and how does it compare to other VPN speeds?
Do all of ExpressVPN's features and leak protection settings work correctly?
Are the VPN apps secure and user-friendly?
Can ExpressVPN unblock Netflix and other streaming services?
Is ExpressVPN worth the (above average) price?
We purchased an ExpressVPN account and tested the VPN apps on both desktop and mobile operating systems to answer these questions and more. All test results are posted below.
Here is a brief overview of our findings:
Pros of ExpressVPN
Secure and user-friendly VPN apps
Strong encryption and security features
No-logs VPN in a safe jurisdiction
Large and secure VPN server network
Works with Netflix and other streaming services
Browser extensions
Split tunneling
Secure and reliable mobile apps
VPN router app
Good customer support and refund policy
Cons of ExpressVPN
Above average prices
Slow speeds with OpenVPN
Fewer features than other leading VPNs
Additional research findings
Lightway Protocol (Pros and Cons)
Does ExpressVPN work for torrenting? (Yes)
Does ExpressVPN work in China? (Usually)
How many connections do you get with ExpressVPN?
Is ExpressVPN worth it?
Now let's examine the details and findings of this ExpressVPN review, starting with the pros.
ExpressVPN Pros
Here are the pros of ExpressVPN:
1. Secure and user-friendly VPN apps
ExpressVPN sets a high standard for security with all VPN apps and infrastructure. The user-friendly lineup of apps have undergone intense scrutiny with security audits performed by Cure53 and others. In short, you will find this VPN to be both secure and user-friendly.
ExpressVPN offers apps for all major operating systems and platforms:
Windows (version 10, 8, and 7)
Mac OS
Linux
iOS
Android
Routers
Chromebook
Amazon Kindle devices, Fire, and Nook
ExpressVPN also offers a feature they call MediaStreamer. This is a smart DNS service that is ideal for unblocking content and accessing your favorite streams. Additionally, MediaStreamer is a great solution if you need to use a VPN for Apple TV, gaming systems, or other devices that do not normally support VPN apps.
And with more people going online for streaming, reliable VPN apps for all devices are important. We examined ExpressVPN to see if it's the best VPN for streaming content online — and the results were pretty good. Below I'm testing out the ExpressVPN Windows app for this review. You can see it has a clean and minimal desig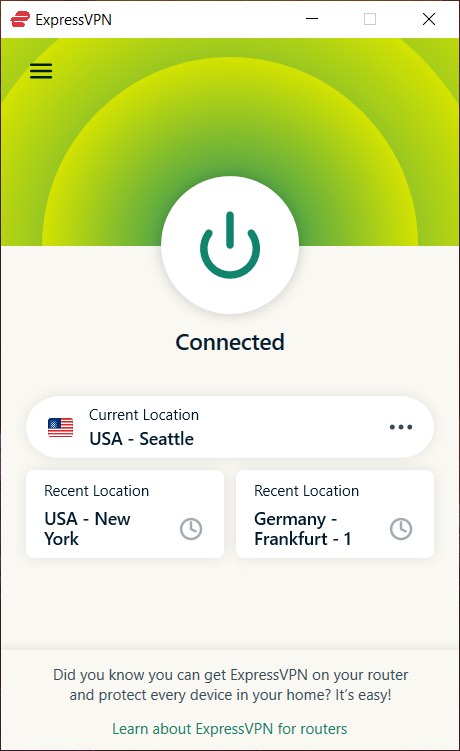 Tapping the three lines in the top-left corner of the VPN app opens up a new window with more features and settings that we'll discuss more in the review below.
The ExpressVPN apps have always had an intuitive design and a simple layout. Many VPN apps are buggy and/or clunky, as we noted in the CyberGhost review. Based on our tests for this review, there is not much to criticize with ExpressVPN's apps.
2. Strong encryption and security features
Based on our tests and everything we analyzed for this ExpressVPN review, this VPN does not cut any corners with security. And this is good, especially when you consider all of the security risks and attack vectors we've seen over the past year. Here are the different areas we examined: encryption, VPN protocols, security features, and leak test results.
ExpressVPN encryption
The cipher, key, and authentication with ExpressVPN depend on the VPN protocol you have selected within the VPN app.
With the OpenVPN and IKEv2 protocols, ExpressVPN uses an AES-256 cipher with an RSA-4096 key and SHA-512 HMAC authentication. The Lightway protocol uses AES-256-GCM and ChaCha20/Poly1305 ciphers to encrypt traffic, along with D/TLS 1.2 for server authentication.
The AES-256 and ChaCha20 ciphers offer a very high level of encryption that is currently considered unbreakable. They also provide excellent performance, especially the Lightway protocol (test results below). Additionally, ExpressVPN supports Perfect Forward Secrecy negotiated through a Diffie-Hellman key exchange.